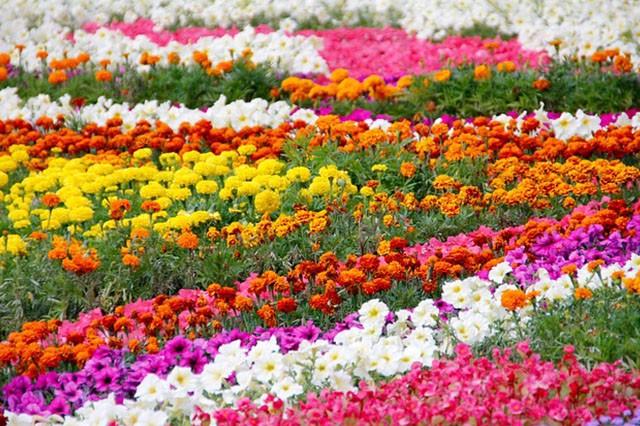 June is the start of the Summer Season when all of the large vibrant "over the top" flowers start to bloom. The weather is improving day to day in June, but there are still some tender plants that need to be cared for and protected from that surprise chill in the air early in the month. There is lots to stay on top of in June but you will also reap benefits from your hard work as your borders and patio becomes more colourful.
June is also the time to plant your hanging baskets, patio containers and pots. A June Hanging Basketslovely mixture of summer bedding, foliage and trailing plants will brighten up any area. We stock a wide range of pots and planters and if the thought of planting your own seems daunting Embleys Nurseries also offers a potting service! We also stock a wide range of planted hanging baskets and containers of various size and colour.
After taking carefully planting out those home grown crops earlier in the year, it is now that exciting time to reap the rewards.  It is now time to harvest those early potatoes, lettuce, shallots, garlic, onions, radish and other salad and vegetables.  your 'own grown' produce is the perfect accompaniment for those many garden parties and barbecues you may have planned.
Vine weevil and other serious pests of container plants start become active this month so ensure that you carefully check your pots and planters both indoors and outdoors for any sign of infestation.   There are a wide range of products and biological controls available in store and our friendly staff will be happy to advice on the appropriate treatment.
Regular weekly mowing of your lawn will keep the grass in great shape, and will mean that it doesn't take you too long as you are just taking a little off the top. Don't cut it too short or you'll end up with brown patches when the weather is dry.  June is a good month for top dressing and fertilizing your lawn as the grass will be in full growth.
Above all, June is the start of the summer and this is also the time that your garden should be enjoyed.  It is now time to bring out the garden furniture and barbecue equipment ready for those spontaneous parties and visitors arrivals.
Visit us instore for ore tips and hints from our expert staff for more information about your important tasks, plants and products for the coming months.